From the Netherlands to Kassel 2022
Dutch focus and extensive presence at Kassel Documentary Film and Video Festival
The Kassel Documentary Film and Video Festival is a yearly six-day event taking place this year between November 15 and 20. This year, there is a huge Dutch presence, including a line-up of shorts and focus on Dutch experimental works.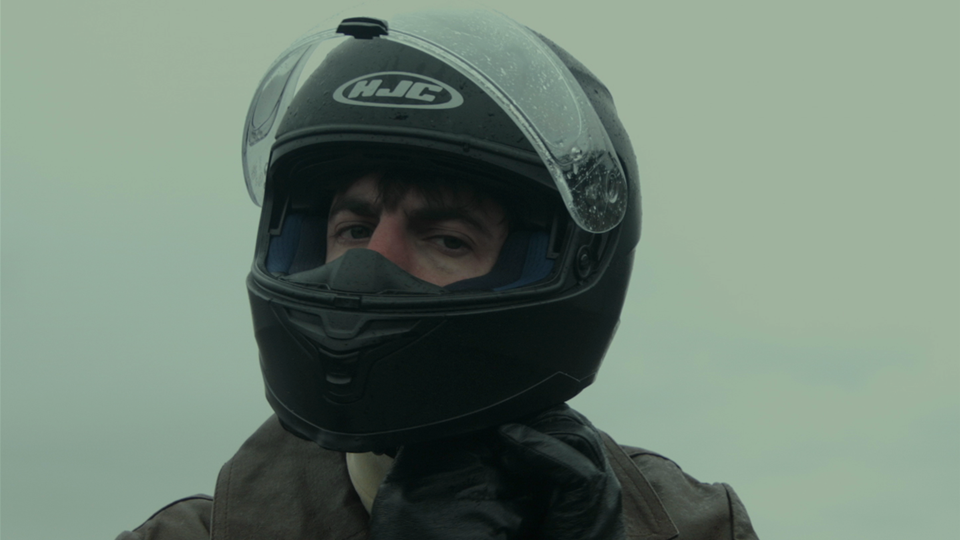 Aromana by Vukan Žarković

Six Dutch Shorts in Short Film Competition
Aromana by Vukan Žarković, graduation short for the Gerrit Rietveld Academy in which a boy longing to become part of a motorcycling group leads us into a silver horizon, where through an array of moving-images of dust, remote landscapes, and boys dressed in fragrant leather, we witness visual portrayals of what it means to feel foreign. The viewer is invited to experience a celebration of the senses through a visual poem that explores questions of belonging, virility, and sexual vulnerability.
In Flow of Words* by Eliane Esther Bots and near/by film follows the narratives of three interpreters of the International Criminal Tribunal for the former Yugoslavia. They interpreted shocking testimonies from witnesses, victims and perpetrators, without ever allowing their own emotions, feelings and personal histories to be present. Contrary to their position at the tribunal, this film places their voices and experiences center stage.
Dutch-US coproduction Our Ark* by Deniz Tortum and Kathryn Hamilton, produced by the Institute of Time is an essay film on our efforts to create a virtual replica of the real world. We are backing up the planet, creating 3D models of animals, rainforests, cities, and people. We are archiving as if ecological collapse could be staved off through some digital Noah's Ark of beasts and objects.
And short experimental documentary Two People Will Come, With Balloons by Hadas Neuman created in the context of the Master of Film at the Netherlands Film Academy. While her mother is undergoing surgery, the director documents the act of waiting. When the time stretches as it does in a hospital, every passer-by, every gesture takes on a meaning. Desperately and whimsically, she examines whether she could control reality through the act of filming, but soon reality shatters her efforts and leaves the terrible waiting time in her hands, as it is – infinite.
The short poetry film Imaginings by Anja Hiddinga and Stichting Geelprodukt present raps in sign language. They share the struggles and dreams of their generation, showing the power of their language for signing and non-signing viewers alike. Their poetry show confidence as well as the vulnerability.
Also selected is Gazing…Unseeing, an Egyptian-Dutch short film from Mohamed Abdelkarim that had its world premiere in this years Berlinale. The video speculates a future scenario demonstrated in a climate fiction narrative. Based on a pseudo interview with an imagined fugitive in a post-disaster era. The landscape and fiction narrative complicates the relationship between infrastructure, privatization, ecology, surveillance, and migration
Focus on Dutch experimental works: Distribution in Profile – Eye Experimental
Each year Kassel Documentary Film and Video Festival invites a European distributor to curate a program representing the works in their catalogue as part a profile program. This year Eye Experimental was invited.
The Eye Experimental program provides a cross section of varied Dutch experimental films and artist's moving image that are included in the catalogue. Both established film makers and upcoming talents are represented sharing their unique take on unconventional subject matter, working method or form. Abiding by Ugo Petronin made from a single 35mm photograph moving through a shutterless camera or Arnold Schwarzenegger – The Art Of Bodybuilding by Babeth M. VanLoo where unprocessed, original 16mm material from the artist (held in the Eye archive) was re-edited in collaboration with Eye and presented as a new work.
Reflections on both universal and personal current issues are the works by Iztok Klančar (Remembering the Nights In Safe Haven), Tortum & Hamilton (Our Ark) and PolakVanBekkum (Lost On Arrival*), while they are also truly original in their different formal approaches. Furthermore, Fragments of Decay by Henri Plaat is an example of recently restored and digitized works by Eye and distributed as part of curated retrospective programs focused on exceptional Dutch avant-garde filmmakers.
Dutch works in Exhibition for time-based media art Monitoring: Absolutely Killing It
Monitoring gives film and video installations as well as other time-based media works, whose form of presentation goes beyond the classic screen or cinema situation, in their own framework. All works in the exhibition have been nominated for the Golden Cube for the best media installation. Among the 19 selected installations, three works with Dutch participation are represented: Salvador Miranda shows Life Eternal. Frank Theys shows Chronicle of an Extinction Foretold. Youngrak Son exhibits his graduation work for the Dutch Design Academy Yummy Body Truck.
For more information on Kassel Documentary Film and Video Festival 2022, click here.
______________________________________________________________________________________________________________________
*Film is supported by the Netherlands Film Fund